Okay, so I've so far avoided ranting on here (and I rant often, ask anyone I know) but this weekend @ the my FLGS more or less put me over the top, so now its time. The night started with the following (and basically went down hill from there as far as WYSIWYG is concerned). The 'flavor of the month' club was foaming at the mouth about the new BA codex, and the conversation went something like this:
"...and I'm going to run 2 harbingers, and have deep striking Landraiders, and Dante, and fast scouting Baals..."
"but they don't make harbingers, probably won't for a year'
"I'll just use Valkyries."
"will you convert them to look like they're Blood Angels?"
"no cause when the actual model comes out, I'll probably sell them.'
...sigh...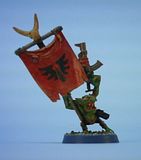 This seemed like as good a time as any to show you my entire BA collection, so here it is, whatcha think?
I would imagine the above conversation is being repeated allover the world @ the moment. I don't mind if someone proxies a mini to try something out a few times to see if they like it (nothing sucks more to spend $30-$50 to only find out you don't like your shiny new unit), or if something was left @ home, etc. But in general it seems anymore that when I go to the FLGS for the game, the same people have the same models proxied EVERY week, and they have NO plans to change this. "dude I always use my chaos marines as plague marines, except that week they were all Khorne berserkers..." I could just not play them, but I live in a small town with a small gaming group to start with. Being a veteran gamer, I
should
be able to look at an army that I'm about to fight, an army that I myself have I've played for years and know what I'm dealing with. I shouldn't have to hold my opponent's army list in my hand to try & figure out what the hell I'm shooting at for the entire game.
For example: My renegade IG took on the Orks this weekend. It didn't really occur to me till I was on my way home that literally every model in the Ork army was a proxy of something. The closest to the actual thing was a Battlewagon with an invisible deff rolla (because they're 'too expensive' according to the guy with roughly $400 of Orks) Here's what I faced vs. what it actually was:
HQ:
Warboss on bike w/2 power klaws, model used: reg. biker w/2 power klaws
Big Mek w/KFF, Model used: a reg mek on 25mm base with Kustom mega blasta, it was the one that comes with the Lootas
Troops:
a big mob of Nob bikers, models used: reg bikers
3X Ork Boys with shootas (20ea.) led by a nob with power klaw Models used: 3X(20) AoBR slugga boys & Warboss (acting as nob)
Hevy Support:
3x Battlewagons with Deff rollas, Kannon, Big Shoota & armor plates, Models used: (1) Battlewagon outfitted accordingly except for the Deff rolla, (2x) standard Leman Russ with no sponsons (certainly no size difference there, right?)
I really can't complain about all the warbikes, as the Forgeworld models are horrifically exepensive, although he could have made an effort to differentiate the wargear. I couldn't tell the doc, from a big choppa, from a power klaw, from a plain grunt, and so on. As for the Leman russes, they'd make for good looted wagons if an effort were made to 'Ork them up', but they aren't even painted, one isn't even fully assembled. You can just forget true line of sight, and the argument obviously ensued when the earthshaker round scattered off of the back of a russ, when were it an actual BW it would have been hit. (I held a russ over the BW to help visualize the footprint difference).
"but I don't want to pay for them!"
"then get them the hell out of your army list! You can easily make a full list without them."
"but I want them!"
Does this happen elsewhere? It's literally gotten to the point where roughly half of the armies that I'll potentially face on Saturday, are going to be proxied all to hell, and not because the player is trying something new. Rather because WYSIWYG doesn't matter.